Our Single Dental Implant Treatment
Dental & Dental & Implant Centers of Colorado provides dental implant procedures to replace one missing tooth with a single dental implant in each one of our 3 metro area locations.
Replacing a missing tooth with a dental implant is in most cases a lifetime solution.
Once a dental patient faces losing a tooth, the immediate answer is to replace it, especially if it is a front tooth. But what happens, when you lose a tooth that is not visible when you smile? The tendency is generally to ignore it.
However, any missing tooth can have a negative impact on your quality of life, as well as dental and oral health. When we chew, a healthy tooth strengthens the quality of the bone; similar to how exercise protects against bone loss. Furthermore, when a tooth is missing, healthy teeth tend to shift position towards the gap due to bone loss, affecting how our upper and lower teeth meet.
This may affect how we place pressure on the teeth when chewing, and have an impact on surrounding muscles and joints, resulting in pain and various other symptoms such as headaches or migraines. Hence, each tooth plays an important role in ensuring that teeth in front of and behind it stay in alignment, and maintaining the health of the jaw bone.
Modern dental implant technology can restore your quality of life with teeth that are strong and that look and feel natural.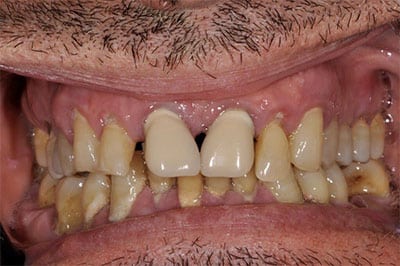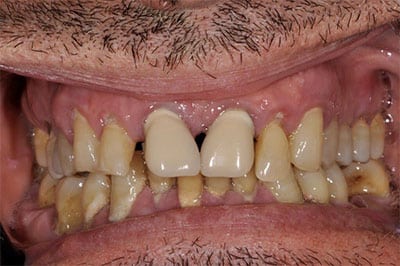 I had such a positive experience here. Dr. Dhawan treated me. Even though my case was a little complicated, he was able to save my tooth. My treatment was not that long and was painless. I have a bad gag reflex, but doc and his assistant (special shoutout) were very accommodating and no point did I feel uncomfortable.
Dr. Dhawan has done an excellent job with my dental implants and crowns. I would highly recommend them to anyone in search of dental excellence. If you are searching for dental "artists" these are your guys.
Discover Single Dental Implants in Denver
Undoubtedly the pinnacle of cosmetic dental treatment, it's easy to underestimate just how revolutionary single dental implants are. Before their arrival, solutions for replacing missing teeth were notoriously limited. Traditional dentures offered an adequate solution, but presented wearers with a whole host of new problems – the need to keep dentures in a jar by their bedside, and the fear of them falling out at the wrong moment!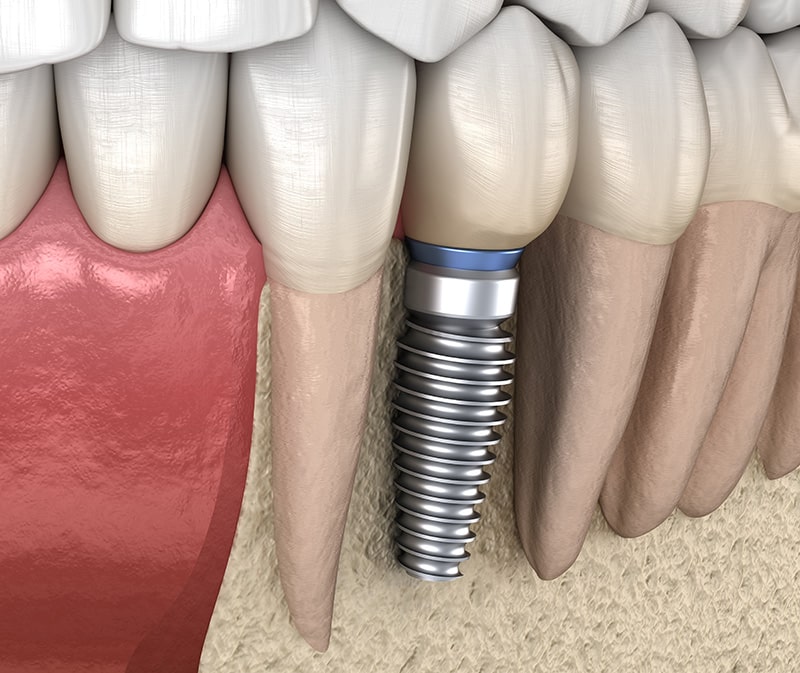 Dental implants provide a sturdy foundation, so you'll be able to use your replacement teeth just like natural ones. You'll be able to eat whatever foods you like, and smile with confidence, without worrying that your teeth are going to fall out! Best of all, because your replacement teeth will look completely natural, no one will be able to tell them from the real thing. The titanium material used to make dental implants is highly durable, meaning that, as long as you take care of your new teeth as you would your natural ones, your new smile can last a lifetime.
Just as importantly, dental implants also offer a number of crucial health benefits. Missing teeth can often cause adjacent teeth to drift into the gap as extra pressure is placed on the remaining teeth. This can also cause wear on the jawbone, and even lead to changes in your facial structure if not treated in time. Dental implants replace this vital structure, preventing unnecessary pain retaining the natural structure of your face.
Dental Implants by Nobel Biocare
At Dental & Implant Centers of Colorado, we offer a wide range of treatments to help solve a multitude of dental issues. Dental implants are perfect for replacing missing teeth, as they not only look good, but they also help preserve bone density within the jaw. Whether you need a single dental implant, multiple implants or a whole mouth reconstruction, we are here to help. We only use the highest quality components in our dental implants, and our highly qualified and experienced prosthodontist in Denver boast an extremely high success rate.
If you'd like more information about our dental implant options, give us a call today or come in and see us at our Cherry Creek clinic and we'll be happy to help.
Dental Implants Product Range
Single Tooth Implants
Single dental implants are used to replace a missing tooth.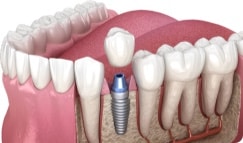 From $2999 – Includes Implant, Abutment & Crown
Multiple Tooth Implants (3+)
Multiple dental implants are used to replace several missing teeth, in one or more areas of the mouth.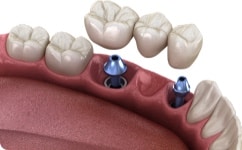 In-house & Third-party Financing Avaliable
Implant Retained Denture
Implant retained dentures are an alternative to traditional dentures. They won't come loose or fall out.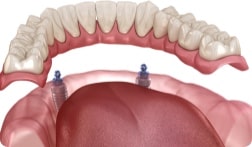 Enjoy Permanent Secured Dentures
All-On-4
All-on-4 is used to replace a whole jaw of teeth using 4 dental implants.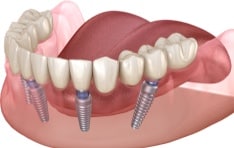 Full-arch replacement (top or bottom)
All-On-6
All-on-6 replaces an entire arch of missing teeth using 6 dental implants.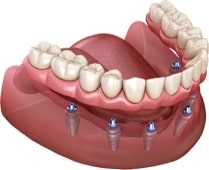 Teeth In A Day
The Teeth in a Day procedure will see you leaving the clinic with a brand new smile – all in one day.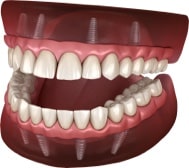 Whether you have just one or all of your teeth missing, there's a dental implants solution for you. Our single dental implants can be used to fill individual gaps, but if you're missing more teeth, you may want to consider our implant-retained dentures, our All on 4 and All on 6 treatments, and our fantastic 'smile in a day' treatment. All treatments are incredible, bearing their individual merits, and the best option for you is something we are happy to discuss.
Single Dental Implant Procedure in Denver
Single Dental Implant Procedure in Denver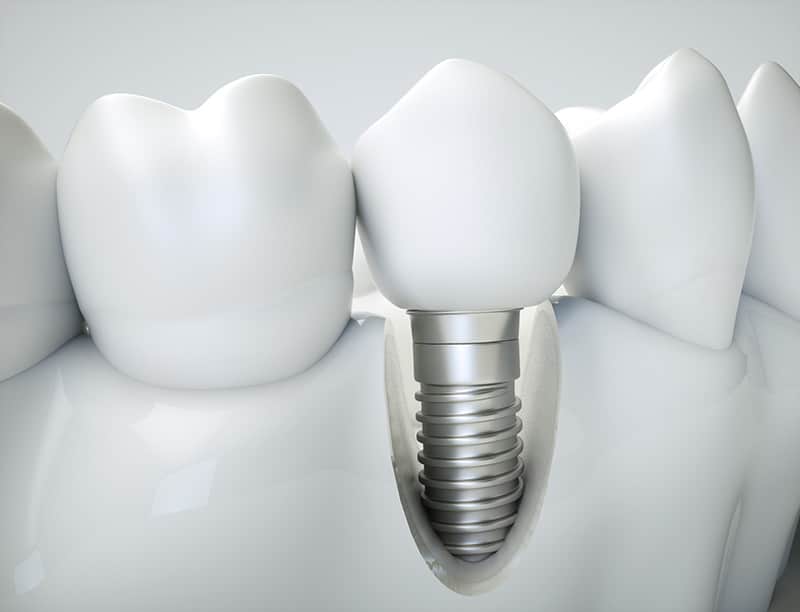 Benefits
A quick solution for replacing teeth – you can even replace an entire smile in one day!
Fill gaps in your smile with completely natural looking replacement teeth
Smile confidently with beautiful new teeth
Enjoy an unrestricted diet
Prevent jawbone wear and reduce pressure on other teeth
Long lasting and highly durable
Financing Your Implants
We offer flexible payment plans for your Implant procedure. Choose between In-house financing (50% downpayment) & 50% over the course of your treatment. Alternatively, we offer third-party financing with Care Credit. 10% Off is applied to any treatment with full payment upfront. A mix of the above options can also be discussed to provide a more personalized payment plan.
Call today to schedule your free consultation and HD 3D scan to get your personalized dental & implant options & cost at 720-547-2690