Do you have dentures that cause you trouble and discomfort instead of much-needed support? And when was the last time you bit into a crunchy apple? Do you also dread them falling out when you speak?
Well if so, maybe the All-on-4 Dental Implant treatment is exactly what you need to give you back the confidence and comfort that you once had.
Did you know that around 178 million American adults are missing at least one tooth? And most are missing multiple or all of their teeth.
Doing nothing to rectify these gaps can cause havoc on your confidence, hinder speech, compromise your chewing abilities, and facial asymmetry – to name a few. Not to mention the effect a toothless smile can have on your self-esteem.
And if you've tried dentures for multiple missing teeth, you may be annoyed with how inconvenient they are. Besides having to remove and clean them every night, they also frequently slip. 
At the Dental & Implant Centers of Colorado in Denver, we provide a popular type of implant procedure for missing teeth that is highly comfortable and cost-effective – the All-On-4 Dental Implants. Using four strong implants per jaw provides a non-removable set of artificial teeth that looks even better than real.
Here's everything you need to know about the All-On-Four Dental Implant technique.
What are All-On-4 Dental Implants?
All-On-4 Dental Implants are a set of four implants that replaces your upper or lower set of teeth. The process involves the installation of a non-removable implant-supported bridge that creates a permanent set of teeth, eliminating the need for removal.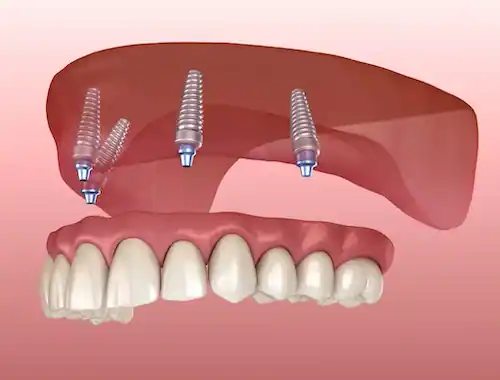 With this solution, teeth can endure for a lifetime. All on 4 Dental Implants have significantly enhanced people's quality of life by providing a more comfortable, secure, and dependable alternative to removable dentures.
Basically, the All-on-4 treatment approach substitutes your absent teeth with a complete dental bridge sustained by only four dental implants. By using fewer implants, the total duration of the procedure is reduced.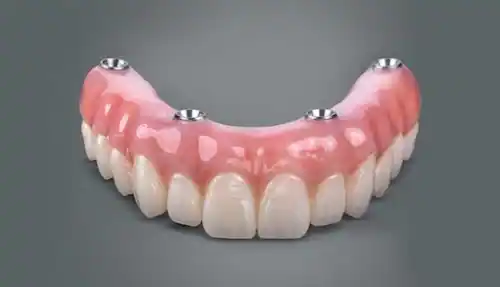 Additionally, the distinctive All-on-4 treatment approach guarantees more significant stability in the bone, lowering the requirement for bone graft surgery to augment bone volume.
Conventional Dental Implants Vs All-On-4 Dental Implants
| | | |
| --- | --- | --- |
|   | Conventional Dental Implants | All-On-4 Dental Implants |
| No. Of Implants | Four to Eight Individual Implants Needed | Four Implants Needed |
| Bone Structure | High Bone Density Needed | Doesn't Need A High Bone Density To Secure The Implants |
| No. Of Appointments | Same-Day Appointment | Multiple Appointments Needed |
| Recovery Time | Long | Short |
| Procedure Cost | High | Low |
| Maintenance | High | Low |
The All-On-4 procedure in Denver
Locating the right specialist to place your All on 4 dental implants in Denver can be a daunting task due to the abundance of options available in the area. Thus, it's crucial to know whom to trust. The first factor to consider is the training of the dentist who will install your dental implants.
Specialized dentists, such as Periodontists, undergo an additional 3-4 years of rigorous training after dental school, specifically in the surgical placement of dental implants. While several general dentists claim to install dental implants, most lack formal specialty training in this procedure.
Furthermore, did you know that most general dentists receive limited training in the surgical placement of dental implants during dental school? Many of them only participate in weekend training programs to obtain "certification" in placing dental implants.
However, this continuing education training offered on weekends is insignificant when compared to the extensive training that specialized dentists like Periodontists and Oral Surgeons receive during their 3-4 year residencies.
All-On-4 at Dental & Implant Centers Of Colorado
In your initial free consultation with Dental & Implant Centers of Colorado, you will discover all you need to know about starting the All-on-4 treatment concept, including information about the costs of dental implants in Denver and the course of the treatment.
On the day of treatment, you will walk out of the clinic with a whole new set of teeth! The first stage is to receive local anesthesia, followed by the placing of four to six implants into the jaw by your dental surgeon.
After the gums have healed and your implants have settled, you will come back to receive your final teeth, individually crafted for you. You will then be able to show your new smile and enjoy life!
Is All-On-4 the right choice for me?
All-On-4 Dental Implant is the right choice for you if you fit the following bill:
You need to replace an entire set of teeth.

You are a denture wearer but are unhappy with its fit or upkeep.

Your bone density is not sufficient to support traditional implants.
What are the benefits of All-On-4 Implants?
If you are still confused about whether All-On-4 Dental Implant is the right option for you, the following benefits will help you reach a decision faster:
A comparatively cost-effective solution for replacing several missing teeth

Highly convenient for individuals with inadequate jaw bone density

Aesthetically pleasing

Fully restores Chewing functions

Improved self-esteem and confidence

Low maintenance is needed

Shorter recovery time

Treatment is complete in just one day

Restores smile

Rapid improvement in quality of life

Lasts a long time
All-On-4 Implants vs. regular dentures
All-on-4 implants and regular dentures are two different dental solutions with distinct features and benefits. Here are some key differences between the two:
Implant-supported vs. removable: All-on-4 implants are permanent and fixed in place, while dentures are removable.
Stability: All-on-4 implants are anchored to the jawbone, providing greater stability and function than regular dentures, which can slip or move while eating, speaking, or laughing.
Bone preservation: All-on-4 implants help to preserve the jawbone, as they stimulate the bone, preventing bone resorption, which can occur with regular dentures.
Maintenance: All-on-4 implants are easier to maintain than dentures. They can be brushed and flossed just like natural teeth, while dentures require regular cleaning and soaking.
Natural appearance: All-on-4 implants are designed to look and feel like natural teeth, while dentures may have a less natural appearance and feel.
Cost: All-on-4 implants are generally more expensive than regular dentures due to the implant placement surgery and the materials used. However, they can be a long-term investment in oral health and function.
All-On-4 is by far the better option, but the choice between them depends on individual needs, budget, and goals for oral health and function.
How long do All-On-4 Implants last?
Considering that dental work doesn't come cheap, it's natural to worry about the treatment's longevity. Fortunately, All-On-4 Implants can stand the test of time. Provided that you give it the utmost care, All-On-4 Implants can last for twenty years or longer. That being said, you might need occasional adjustments over the years as dental implants are continuously subjected to wear and tear.
Do All-On-4 Implants look real?
Absolutely! All-On-4 Implants provide you with natural-looking replacement teeth that are fully natural functioning too. The implants are crafted from sturdy materials which mimic natural tooth appearance. What's more, you can even get a better-than-before smile if that's your desired treatment outcome. The only way people will know they aren't your natural teeth is if you tell them. 
How long does it take to recover from the All-On-4 procedure?
As this is a minimally invasive procedure, the recovery period is relatively low. Your sedation will wear off in four to five hours. You'll need to restrict your diet to a liquid diet for a few days. Pain medications will help with any swelling that may occur postoperatively. You should be able to resume work in two to three days. 
How can I reduce recovery time?
Your All-On-4 Implant procedure was a success. Now what? 
You need to maintain excellent oral hygiene and visit your dentist twice a year for general cleaning and checkup following your procedure. Furthermore, you need to take a balanced diet and avoid habits that might cause a potential implant failure, including smoking or using teeth to open bottles and break nuts.
Is the procedure painful?
Contrary to popular belief, All-On-4 Implant is a relatively painless, well-tolerated, and minimally invasive procedure that requires a total of two to three hours per set. To begin with, you can choose between two forms of sedation: local anesthesia or IV sedation.
Also, the dentists at Dental & Implant Centers of Colorado are extensively trained and fully experienced to make sure the entire process is as comfortable as possible. 
Why choose DICC for All-On-4 Dental Implants?
If you are someone who doesn't like the idea of placing removable devices in their mouths, All-On-4 Dental Implant is your best bet. A permanent set of teeth go on top of the implants, and you won't have to deal with uncomfortable, ill-fitting removable dentures ever again. 
And here's why you should opt for the Dental & Implant Centers of Colorado for your next All-On-4 Dental Implant procedure:

We have a team of doctors, equipment, and lab technicians available all in one patient-centered facility.

All our implant procedures are done by a prosthodontist instead of a general dentist in most other dental clinics.

General dentists are available for your yearly checkups to help maintain your oral hygiene and implants/dentures. 

Our in-house lab ensures quality control and faster turnaround.

You don't have to wait for endless time to get your new teeth. Our All-On-Four teeth Implant is backed by 20 years of research & testing by Nobel Bio Care to provide you with a natural-looking teeth replacement in one day.

You don't have to go through any bone grafting procedure, which cuts the total cost in half.

Here we employ state-of-the-art dental implant technology along with surgical suites and cutting-edge CBCT machines in-house that will ensure a higher rate of success than traditional dental implant procedures. 

You can request your free consultation and 3D CAT scan. 

We provide third-party financing and payment plans for patients with financial needs, accept several payment methods and work with most dental insurance plans. 
How much does it cost in Denver?
At Dental & Implant Centers of Colorado, we provide a customized treatment plan for your All-On-4 Dental Implant procedure, depending on the type of material used, the total no. of missing teeth, and the need for surgery. 
You'll be glad to know that DICC provides a Third-Party Financing & Payment Plan for patients with financial needs. We accept multiple payment methods and work with most Dental Insurance. 
What's more, DICC also provides a FREE CONSULTATION & 3D CT SCAN to all its patients that include the following:

An examination of your teeth, gums, and jaw bone.

An in-depth discussion of your individual needs

A treatment plan tailored specifically for you.
Request a free consultation today by calling (720) 923-6014 or visit us at our clinic situated in the heart of Cherry Creek at 3737 E 1st Ave, Denver, CO,80206. You can also visit our satellite offices located in Boulder & Broomfield.