What are the benefits of Full Arch Dental Implants?
Full arch dental implants can be a better choice over single implants for many reasons. They provide a more reliable way to replace multiple missing teeth. Going for full arch implants also takes less time than you need to use single implants for more teeth. 
The process provides a permanent solution that lasts for your entire lifetime. You can also eat, talk, and use your jaw without any problems. 
The implants also check bone loss and help gum bones prevent shrinking. Best of all, fur arch dental replacements look natural. People will find it difficult to say if your teeth are fake. The mouth restoration process also maintains a natural facial appearance and gives you a beautiful smile.
Types/ Advantages of Full Arch Implants
Discover All-On-4 Dental Implants in Denver
All-on-4 dental implants replace a full jaw of teeth but use just four screws. Traditional dental implants, by contrast, would need eight to ten screws. This means that the All-on-4 procedure is much faster and simpler than the traditional procedure. It also means that All-on-4 is very cost-effective.
The power of All-on-4 dental implants is that wearers can have very realistic teeth at minimal cost and inconvenience. This is thanks to the advanced fitting process.
In the All-on-4 procedure, two dental implant screws are placed front and centre. The other two are placed at the back, one on each side. The front screws are fitted at right angles to the jaw. The back screws, however, are tilted 30º to 45º from the biting plane.
This tilt gives a lot more grip than the traditional right-angled fitting. It's the main reason why All-on-4 dental implants are absolutely secure even though they use half as many screws as traditional dental implants. Also, your jawbone will continue to grow over the All-on-4 dental implants. This makes them even more secure.
For hygiene reasons, the dental implant screws are generally made of titanium. The teeth themselves usually have a zirconia core and a porcelain veneer. Zirconia gives strength while porcelain can be contoured and coloured to suit the individual wearer perfectly.
Is All-On-4 Right For Me?
Benefits
All-on-4 dental implants are perfect for those looking to replace an entire jaw of teeth. This treatment only uses 4 screws, meaning both the procedure and healing times will be quicker than other treatments, such as Teeth in a Day. From a physical perspective, you need to check whether or not you have sufficient bone strength to hold the implants. If you don't, you may still be able to have All-on-4 dental implants. You would, however, need to first undergo bone augmentation. This would increase the complexity of the treatment, but is a necessity if you do not have enough bone density to support the implants.
Financing Your Implants
We offer flexible payment plans for your Implant procedure. Choose between In-house financing (50% downpayment) & 50% over the course of your treatment. Alternatively, we offer third-party financing with Care Credit. 10% Off is applied to any treatment with full payment upfront. A mix of the above options can also be discussed to provide a more personalized payment plan.
Implant Supported Dentures in Denver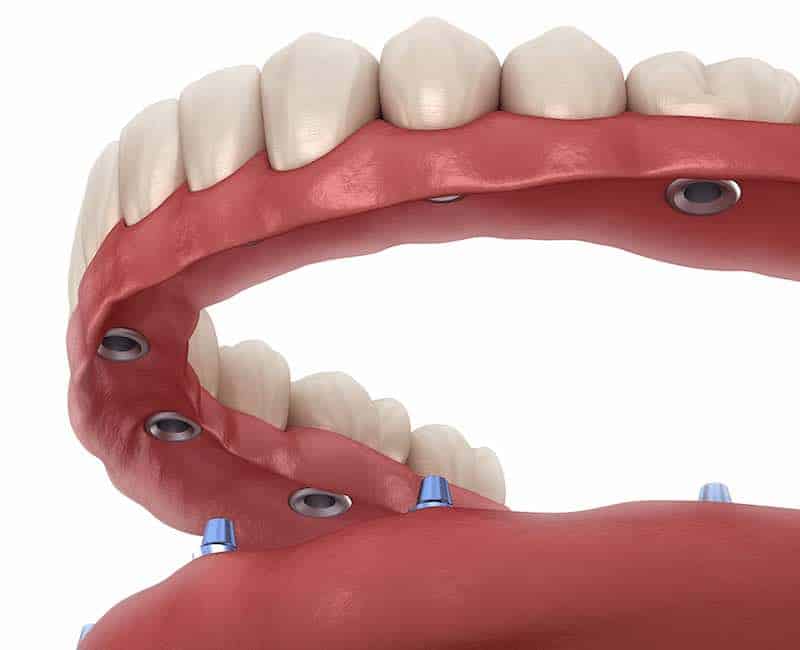 A conventional denture or a simple denture sits on the patient's gums. As time goes on the gums shrink or recede thus making the denture move every time patient eats, talks or even open their mouth.
Also, as the fit changes, they need to be relined/rebased regularly.
Implant assisted dentures in the upper jaw can be designed so that the roof of the mouth is not covered thus reducing the bulk considerably. This is particularly helpful for patients who have gagging issues or want palate exposed to better taste certain foods.
Our team is trained to fabricate such dentures with different kinds of attachments per need of the patient. With the help of the latest technology, we can plan the correct number, angulation of implants needed and then fabricate a precise fitting denture to fit all of the patient's needs.
Is Implant Supported Dentures Right For Me?
Benefits 
For patients who are suffering from these resorbed ridges implant, assisted dentures are an ideal solution. Implants help in improving fit, function, and though the initial cost is slightly higher the overall advantage is significantly more over the long term.
Patients who never had any dentures and are now going to have their teeth extracted due to any reason are also a good candidate for implant assisted dentures as having implants helps them to get used to a removable prosthesis easily.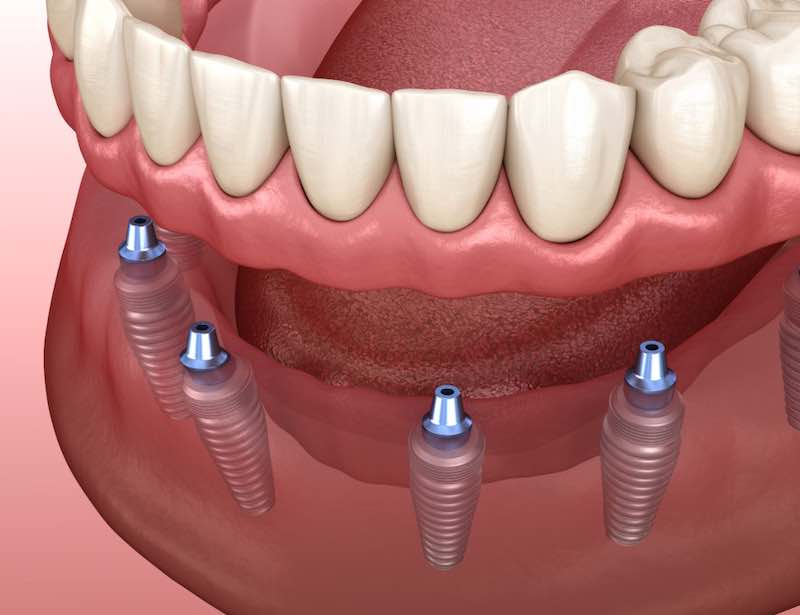 Removable Options in Denver
Implant Overdenture is one of the options with the best return on investment when all teeth need to be replaced.
Implant Overdentures are also called "Snap-On Dentures" because the mechanism to connect the denture to the implants is a male-female, snap assembly. This "Snap Assembly" provides stability (prevents movement front to back and side to side) and retention (prevents the denture from moving away from the tissues).
Patients who needs dentures often worry about their teeth slipping, becoming loose, or falling out while performing normal activities like talking and eating. Implant overdentures prevent the need of denture adhesives and cream to help secure these dental prosthetics to your mouth, but many fall short in providing a confident grip that lasts throughout the day.
Is Removable Right For Me?
Benefits
There are some benefits about Removable:
Lower cost (as much as half the cost)
Much easier cleaning. Because the prostheses can be removed, cleaning takes much less effort and time
For patient with severe bone loss, implant overdentures can provide additional facial support. This is an advantage allowed by the denture extension under the lips to fill in the space where bone was lost
In general, anyone missing or soon to be missing their teeth are potential candidates for implant overdentures.